This post is also available in: Danish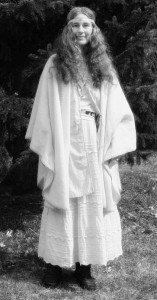 Sosha is a widely known clairvoyant healer, lecturer and teacher, and has completed several studies, she has also completed the 3 year education as a Druid and is a member of the Druid order, The Order of Bards, Ovates, and Druids. Sometimes she also physically bears the charactaristic white cloak, known internationally in countries like Iran, Egypt, The Holy Land, Mundo Maya, India, Peru, Atlantis, and among the Inuit Nations and The Celtic Lands.
She is also known in several countries like Greenland, Belgium, Norway, France, and Great Britain, and ever since she was a little girl she could communicate with all living beings; Humans, animals, plants, trees, stones and numerous beings in the non-physical reality. She works with power animals, elves, angels, as long as they, too know that they are connected through the Power of Love with all beings. Her boss is the Archangel of Michael.
Her name, given to her in the other reality, is Celtic, and means bright.
Sosha was born into a special family (the grail family) with psycich abilities.
Several near-death-experiences only made her stronger, and already with severeal studies behind her, she finally stepped into the open in year 2000 as clairvoyant healer and has worked as such full-time ever since.
Many people have come to her again and again, also quite a few of the first who came to her in year 2000.
Sosha is a strong and sensitive personality with humor and a direct and honest way of being.
She has an excessive knowledge about many different religions, too, however, she does not represent any specific life style and has chosen to be neutral in her efforts to help as many beings as possible. In her prescense many people will experience great peace of mind and healing.
Mostly she works as a clairvoyant healer, lecturer, and Aura-Soma therapist with a waiting list of about two months and a big network.
She hopes, in time to be able to reach even more people by working with larger groups and playing channellede music on the harp.
The shaman/The seer/The Druid
has always been part of any society world-wide, incl. Denmark, and the function of the Shaman is to be found in all the major religions, but the Shaman herself is not necessarily associated with a specific culture.
I do not represent any religion, or life-style myself, but help the individual to find his/her own place, his/her own unique beauty and splendor, so that humans, animals, and other beings by means of their own free will may choose for themselves the best possible future.