This post is also available in: Danish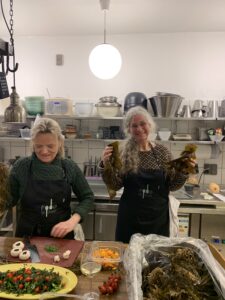 Renew Body, Soul, and Mind – Connect Heaven and Earth
An outstanding course on the 6th-8th of October
with two outstanding personalities:
The Cook & The Clairvoyant
This course is for people who would like to become happier through a positive outlook towards body, soul, and mind. The Latin saying Mens sana in corpore sanum – a healthy mind in a healthy body goes both ways: If your mind is sad, it affects your body, and, if your body is sad, it affects your mind. Consequently, a clairvoyant healer and an expert cook is the perfect combination.
Annette's Food By Heart kitchen has its own style with a tasty umami and Umahro potpourri of colours, health food, and anti-oxidants – Future Food and Seaweed Food indeed!
https://foodbyheart.dk/
Sosha's heart opening work as a spiritual guide with Christ as her master, who's only message is love, results in a very different, precise, and grounded clairvoyant healing where, occasionally miracles happen. Sosha is also doing other courses, and lectures.
http://sosha.dk/
We have both worked full-time for more than 30 years with our two passions. We are going to stay in the historical Villa Brinkly in Snekkersten, only ¾ hours by car from Kastrup Airport. Annette's husband, Erik has carefully restored this place, enhancing its unique personality, and the villa is situated quite close to Oresund with an old forest in the backyard in the northern part of Seeland. This is a course for inner peace and contemplation, empowered by Annette's wonderful luxurious food, Sosha's presence during the course, an individual clairvoyant reading, and the loving care from both of us.
This exclusive course commences at 5 p.m. Friday and ends at 1 p.m. Sunday. Price is DKK 6.400 including a 30 min individual reading, 2 nights, 2 dinners, 2 lunches, 1 breakfast Saturday, and 1 brunch Sunday – everything as a buffet. Coffee, tea, biscuits, snacks ad libitum, and Villa Brinklys healthy water with antioxidants. It is possible to buy beverages, like, for instance, home made juice, also you can hire the suite, or the two woods-rooms (superieure) for an extra DKK 600 per person, and you can save DKK 300 per person when sharing room.
We look very much forward to seeing you                With love, Annette & Sosha