This post is also available in: Danish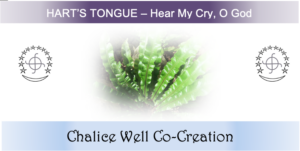 Hart's Tongue – Hear my Cry, O God
Asplenium Scolopendrium
Born 7th of July 2019 = ♾
During the birth of Hart's Tongue, Mercury went retrograde and there was a solar and lunar eclipse:
Let go of the old, step out of your self-created prison, a door is being opened.
When Sosha went up the slope of Chalice Hill with the purpose of seeing Wearyall Hill from there, she had a vision of a burning rod on top of a sleeping dragon, a dragon that would soon wake up. Looking back towards Chalice Well Garden, she noticed that there were many crows speaking, and a raven was perched on the roof of Little St. Michael's.
The night before, Sosha had a dream about a war in a big English city… Simon later told us, that the bombing of London took place on the 7th of July 2005, numerical value 21, and angel on both shoulders. In the Tower of London ravens are kept, it is said that if they disappear from there the crown will fall.
Sosha had yet another dream where she was in Africa together with an African man to see a Prisoner of Peace. Der was something royal, something Rastafari about it… The Rastafari movement and Haile Selassie as the Messiah of Africa, and thoughts about Gandhi, Martin Luther King, Nelson Mandela… And Jesus.
In the Upper Room the night before Sosha met Jesus who said: "Turn the other cheek".
Without knowing which essence we should make that day, Natascha brought us in silence to the wellhead of the Red Spring in Chalice Well Garden, and without a word she showed us the plant, which grew underneath the bars on the inside of the wellhead itself, behind bars, and the word Prisoner of Peace came to my mind once again.
Psalms 130: "Out of the depths I cry to you, Lord; Lord hear my voice."
Psalms 61: "Hear my cry, O Lord."
And Hart's Tongue speaks to me and says: I am love. I am the paradox of wisdom! I connect light and darkness, the so-called right and wrong, the physical and non-physical world, just like the Vesica Pisces at the wellhead here, which is connected through the spear of the Archangel Michael. I am a prisoner of peace, and yet I am free to travel to other places in Chalice Well Garden, to all places in the entire world. I can grow in extreme cold and extreme warmth, I can grow everywhere, in rocks, meadows, forest, or desert and I am the medicine that drives out the poison from your body and your soul. I connect
Nefesh (the soul of the community)
Neshama (the soul of man), and
Ruach (The Holy Spirit).
I connect, I dress your wounds. I am a rebel, a warrior of peace, I am weed, and yet I am a domestic plant. I should not have been here in this garden, I was not invited, but look, no dandelion, no chichory, but here I am!
Actually, I come from Africa, Ethiopia, the Garden of Eden, the origin of the European race. I am the feather of Maat, for your heart must be light as a feather to enter paradise, I am the feathers of an Indian chief, connecting Mother Earth with Father Sky. Look at my beautiful leaves, see how they shine and sparkle and reflect all colours of the rainbow, especially when covered in dew, rain, or spring water, the healing tears of the earth. I am a rainbow warrior. I love the desert wells. I am a messenger from well to well like the squirrel Ratatosk, bringing messages from crown to roots on the world tree, the powerful Yggdrasil, at the foot of which are the wells of wisdom. I can be the palm leaves on Palm Sunday, when Jesus, so royally alone was riding towards certain death. But I can also stick my tongue out and tell you the truth, if someone insult me, or others, for no reason at all. But turn the other cheek, that is my strongest weapon.
I wear feathers, I belong to the indigenous people. I am an African chief.
When winter comes, I wither and die, but my roots survive, and when the top half of me dies, I give nourishment to the earth. I cannot die, you cannot kill me, never!
I AM A WARRIOR OF PEACE
One language unites us all, the language of the heart. Unification, humility, healing of old wounds, simplicity. I have been here longer than you remember. A vessel holding water, hold and receive the vibrations of the water. Full containment within the body. Security beyond security. Even in times of cataclysm there is nothing to fear. Fearlessly to step forward into the darkness. The lion and the unicorn. The ultimate rescue remedy for the apocalypse. In the depth of confusion, I am. Jesus' despair. Stability is the underlying structure. Freedom. Hannya Shingiyo = The heart sutra, one of the most important sutras in the Zen Buddhism. Rays of light.
Love is the power that speaks through the tongues of men. To speak in tongues. In the Garden of Eden, the red and black serpent came slithering across the ground, and the ferns were burned and shriveled.
The parts that grow above the ground are used to make medicine. People take harts tongue to treat digestive disorders and urinary tract diseases.
1 Corinthians 13
Greatest of all is Love
If I speak in the tongues of men and of angels, but have not love, I am a noisy gong or a clanging cymbal.
And if I have prophetic powers, and understand all mysteries and all knowledge, and if I have all faith, so as to remove mountains, but have not love, I am nothing.
If I give away all I have, and if I deliver up my body to be burned, but have not love, I gain nothing.
Love is patient and kind; love does not envy or boast;
it is not arrogant or rude. It does not insist on its own way; it is not irritable or resentful;
it does not rejoice at wrongdoing but rejoices with the truth.
Love bears all things, believes all things, hopes all things, endures all things.
Love never ends. As for prophecies, they will pass away; as for tongues, they will cease; as for knowledge, it will pass away.
For we know in part and we prophesy in part,
but when the perfect comes, the partial will pass away.
When I was a child, I spoke like a child, I thought like a child, I reasoned like a child. When I became a man, I gave up childish ways.
For now, we see in a mirror dimly, but then face to face. Now I know in part; then I shall know fully, even as I have been fully known.
So now faith, hope, and love abide, these three; but the greatest of these is love.
Mantram of unification:
The Mantram of Unification
The sons of men are one and I am one with them.
I seek to love, not hate;
I seek to serve and not exact due service;
I seek to heal, not hurt.
Let pain bring due reward of light and love.
Let the soul control the outer form, and life and all events
And bring to light the love that underlies the happenings of the time.
Let vision come and insight.
Let the future stand revealed.
Let inner union demonstrate and outer cleavages be gone.
Let love prevail. Let all men love