This post is also available in: Danish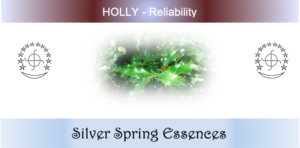 Holly – Reliability
Ilex
Born 21.6.2020. Digit Sum 4, Uranus
Uranus: Be righteous always, hence, do not necessarily go by the rules.
Masculinity – The Green Man – Gwyn Ap Nudd the Elven King – Robin Hood
To my puzzlement Holly wanted to be born the day after Summer Solstice. Later on, I remembered that Holly, according to ancient lore, rules when the sun wanes, from Summer Solstice to Winter Solstice, this is the season when Man must show His strength. The child born of the Mother Goddess has now come of age, and, when the sun is in zenith, He will, together with the Mother Goddess give life to children of His Power:  The seeds of flowers and crop, the fruit of trees and bushes. At Winter Solstice, with his last bit of strength, he will be re-born through the Mother Goddess.
The Green Man is the Masculine guardian and keeper of nature in His cycle of life, death and re-birth. The very symbol of Godhood within the man, which we should all honour and respect as much as the Godhood within woman. He passes on his vibrant energy to anything living.
On my bike for a dip this morning, I met some 20 men on bikes going in the opposite direction all smiling at me and greeting me. On the far side of the lake there was a man with a dog.
My husband had decided to co-create this essence together with me.
Holly had told me that he wanted to be born exactly at noon, whereupon the dryad of the bush turned up and transformed himself into Bilé, the consort of the Mother Goddes Danú, and then into Gwyn Ap Nudd, the Elven king, who is said to live below Glastonbury Tor. He said:
"In the old days, men were men, they loved the same woman no matter whether they could have her, or not. They cared for and provided for their families, and those under their protection. They defended their lands, and they were straight-forward and honest."
I am spiritual revival, initiation.
I am strength, courage, and protection.
I am endurance, persistence, and centeredness.
I am precise, Matthew 5:37 "All you need to say is simply "yes" or "no", anything beyond this comes from the evil one."
I am inner strength, and energy and know my way. I am a good listener, I see your point (my pointed leaves), and defend all that is good, positive, and nourishing.
I am righteousness on behalf of the weak.
You can always count on me; my leaves are never changing, always growing. Five points, or more, on either side, and one pointing straight ahead for direction.
Things are as things are, focus on this if you want to grow.
I restore your soul and, as a surgeon, I go to your very core and remove your demons.
I restore your body, takes out your poison, so that you may live.
I bring back happiness in your life in the deep dark of winter, show you how important never-changing love is, hence, my leaves are evergreen, my berries red, for love.
I am empathy, and I never turn my face away from those, dear to me, who need my help.
I protect trees, my stems straight, my leaves enfold.
Aim straight, stand tall. I am Dog Soldier (the Native Americans had dog soldiers to watch out for enemies)
I am who I am. I am presence.
I clear the clutter in your head.
The kite, who lives here on my premises, cries out twice: Time is up. Precisely 25 minutes!
Ilex is poisonous in larger doses, so do not make your own remedies! It is a neurological remedy that can be used as an anti-epileptic. It is diuretic and skin draining, helpful for eczema with fissures and psoriasis. It is an intestinal antispasmodic that can be used for diarrhea, celiac diseases, IBS, colitis and gastritis.