This post is also available in: Danish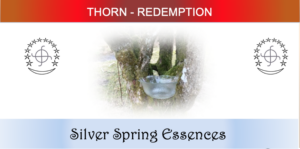 Thorn – Redemption
Crataegus
Born Monday, the 22nd of March 2021. Digit sum 3, numerologically: Jupiter
Trinity, The Three Rays of Light /|\ Awen, or Ohm, the World Sound
In the Celtic world Thorn belongs to Mars and is called Uathe
The Crow
And to you, who are well-versed into Celtic lore, I must declare, that I am acutely aware of, that the trees, so far, have chosen to be born at a different time of the year, as the ones stated in the Ogham-alphabet.
Thorn wanted – so to speak – to be born on St Joseph's day: If the 19th of March isn't a Monday, it is celebrated in Columbia on the subsequent Monday. The 22nd of March is also World Water Day. And it is three days after spring equinox/ Alban Eiler the 20th of March – The balance between light and darkness. You enter The Flaming Door in the kind of initiation that renders you Twice Born.
Song of Solomon 8:7: Mighty waters cannot quench love; rivers cannot sweep it away. If a man were to give all the wealth of his house for love, who would scorn him". The Burning Thorn. Joseph of Arimathea, who sails from The Holy Land to Wearyall Hill in Glastonbury, England and plants his staff in the ground. That staff, which, according to legend, strikes root and becomes The Holy Thorn, who's descendants grow in Glastonbury to this very day.
It looked as if Thorn wanted to be born precisely at 11 a.m., anyway this was what She told me the day before, and even though I took the time it took, well, then I was sat before Thorn at 11 a.m. sharp. I had biked to Nimdrup Brook, which empties into Bryrup Lake. There, by the brook is a Thorn, which has always had a special place in my heart. Already from a far distance Thorn radiated such strong love, calm, and happiness in an eternal shimmering light of all shapes, ever changing with a speed faster than light. I saw through the eyes of Thorn Her love for all living things, Thorn, who unites all opposites in all those colours, through which a redemption occurs in great happiness and freedom.
So, thus, I should place the bowl of Silverspring water in the heart of Thorn, between its stems.
Thorn hastily proceeded to speak, for Her energy was very quick:
"Ahh, the path of redemption for humans goes through suffering, for only thus their hearts may be opened, that they may see how everything comes together in love. Humankind has not the wisdom of the trees, the plants, and the animals, humankind must learn, only to be… without ulterior motives, without desires to take more than they need."
" Who are you, to criticize the difference in others, who are you, to judge others without knowing them? An unquenching non-judgmental love will show you the way: Matthews 7:3: "Why do you look at the speck of sawdust in your brother's eye and pay no attention to the plank in your own eye".
Love now fills my heart, so that it grows with an almost unbearable strength, and Jesus appears within the Thorn with a Crown of Thorn around his head.
Thorn chose to be born on World Water Day next to Nimdrup Brook and Thorn adds: "If only we understood how to share all the water we had with all of mankind". Isaiah 12:3 "With joy you will draw water from the wells of salvation."
"Redemption is freedom; Thousands of years ago I taught you how to be free from dependency of someone, or something; Begin by loving yourself, for thus you can love everything around you. When everything around you are love, then how can you ever be alone?"
Love grows stronger and stronger, encompasses the entire earth, the entire universe, all living beings. I sit with my back to the mouth of the brook, and the water from the brook rushes towards me and into my heart.
" When you know your own right, you shall never have to defend yourself. Look, how Jesus let himself be crucified and understand. That is all".
THANK YOU, Thorn, I LOVE YOU.
Thorn belongs to the Roesacea, the Rose Family. The white flowers are poisonous, but the subsequent ripe red berry flowers, which appear from May to June, and the leaves are edible galore. Thorn is known for improving heart function. It may also contribute to a normal amount of oxygen in the blood and render a healthier blood circulation. Thorn may protect other more vulnerable plants.