This post is also available in: Danish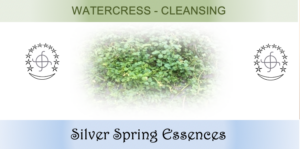 Watercress
Nasturtium Officinale
Born 01.01.2020. Digit Sum 6 Venus – Love
Of course, preserved with the Danish Brøndum Snaps (brønd means well).
CLEANSING ALL-HEAL Happiness, power, optimism, life force and imperishable.
I AM Watercress, Messenger of Peace to the four directions of the world, living in all four seasons of the year, hence, my petals are four, and white as purity, simplicity, and neutrality and my leaves are shaped as little hearts. In Danish I'm called Well Cress, and I have been in Denmark for thousands of years, especially in the middle of Jutland where you live. In the old days I was much valued. You may have forgotten me, but I AM the cleanser of springs, the all-heal of old, your local lotus flower, if you like, with long stems that have roots in the mud, the gravel, and the sand. I never give up. I AM WHO I AM.
I'm a being of Light and Water, and in the springs and wells, where I live, the temperature is a constant 7-8 degrees all year round. So, I AM always alive and green, spring, summer, autumn, and winter. Today is the beginning of a new year, so close to the midwinter, and I offer you life, and abundance; I cleanse the water on this planet, after first it has been cleansed by Mother Earth, from which it springs; I cleanse the system of Nature, and I cleanse the beings on this earth: I cleanse the vital organs that cleanse you, your liver, your spleen, your kidneys. And I cleanse the water in your blood, and the rest of your body. I am a bringer of that kind of peace and calm that can only be achieved through constant movement, constant development.
So, listen to the Voice of the Wells.
I AM a bringer of hope and life when all seems lost for those who feel stuck, sad, depressed, or sick to death: I nourish the four-legged, and the two-legged and the winged beings alike. I make passages and little islands in their minds for my ever-sustaining energy to pass through.
I looked it up and found out that its Latin name is Nasturtium Officinale and that it belongs to the cruciferous family in the brassicacea – the cabbage family. By now it has become very rare, but it is actually most often found in the area of Denmark where I live. It lives in water containing calcium, and we mostly have lots of red springs in this area, but very few white springs. The Silvery Spring is one of the white springs. It is a perennial herb which can become as tall as 80 cm and flowers in July-Sept. The flower has 4 white petals and yellow anthers. The fruits are rounded oblong pods. All of the plant can be eaten, however the roots do not taste so well, and that is just as well, so that it may survive. It is known to contain over 50 vital vitamins and minerals; in fact, this leafy powerhouse, gram for gram, contains more calcium than milk, more Vitamin C than oranges, more folate than banana and more Vitamin E than broccoli. It also contains glucokinases and mustard oil, which is antibiotic and anti-inflammatory. In the old days it was a remedy against scurvy, and crushed in wine it helped against paralysis, epilepsy, and loose teeth. Today, it relieves coughs, bronchitis, osteoporosis, cancer and other chronical diseases. It also increases your appetite and is astringent.